Make A Website With WordPress
In this article, I Will tell you how to make the website using a WordPress plugin with free Domain and free Hosting. If you are new in this field then I want to tell you how to make the website. To make a website you need two things.
1. Domain Name 2. Hosting
Domain Name
Suppose google search engine Domain Name is www.google.com, and Facebook Domain name is www.facebook.com etc. These categories Domains are aTop-level domain names. Com, Org, Info, etc these extensions are not free. If you want these extensions domain then you can get a top-level domain with hosting just in $1.You can also get a free .com Domain Name and Host with only $12 for one year. For more information to purchasing a free domain and host, Please visit How to get free domain and hosting. But in this article, we will get a free domain from www.dot.tk. Get a free domain with.CF extension. Don't take a .tk extension because which hosting service we use, did not allow the .tk extension. Simply go to www.dot.tk to get a free domain and login with Facebook or Google account. After Login click on services option and select register a new domain option and looks carefully Screenshot is given.
Get Free Hosting
After getting a domain, we need a web hosting service, Web hosting is a space on the internet in special computers called servers. Where you can upload anything on your website. Through the web hosting service, you can control your website. There are many free website hosting services on the internet. But these do not allow the most important features.  The most popular web hosting service which allows users to some more features but not allows .tk extension domain. The discussion on the web hosting services is another topic, But, In this article, I am telling you how to make a website with a free domain and free hosting service using WordPress.Simply click on this link: www.byet.host.com to get free hosting to make a website, Fill up the Sign-up Form, Temporary choice subdomain.
How to Setup Domain on Web Hosting
Simply login you're hosting CPanel and go to Addon Domain option. Add your domain directory through this option. Before adding domain directory, you need to add hosting servers name to your domain Server names option. Find out your hosting server's name in your hosting Cpanel and go to your Free Domain Name account, Click on My Domain >Manage Domain>Management Tools>ServersName>Chose Custom ServersName. You can also watch my Youtube Video, How to make a website using WordPress

Install a WordPress Plugin
Install WordPress Plugin on your site, Through the WordPress Plugin, you can easily design your website and post your articles on your site. WordPress Plugin is a useful tool for a site. Its use is very simple and easy. It is the reason many users choose WordPress Plugin for their site. The WordPress Plugin installation is easy, ThereFore installation process instruction is shown in the screenshot.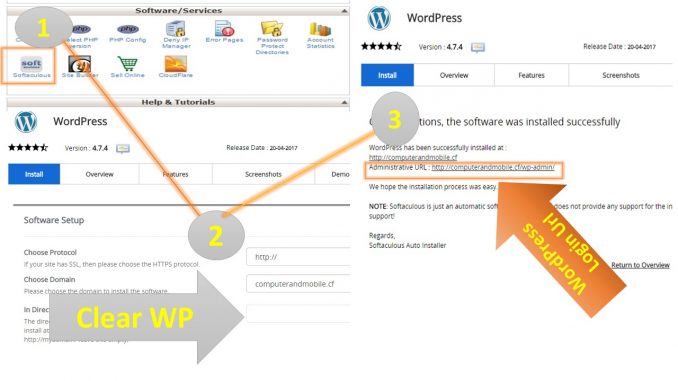 Finally, you can make a website easily by using these guidelines. In addition, wordpress.com is a blog and wordpress.org is a plugin that installs on the Cpanel to design the site. Therefore use a WordPress plugin to design the site instead of a WordPress blog. Hence everyone makes a site by using a WordPress plugin.
If you have another site and you want to move another hosting then visit Transfer WordPress Site To Another Hosting