How To Make Video Website Like YouTube
In this post, we will cover How to make video website like YouTube. There is no need for any web programmer or coder, which charges a lot of money. But we need a video sharing website Script that installs in the web hosting Cpanel, which seems Like WordPress. There are many video-sharing website Scripts on the internet, most of all paid scripts. Don't worry; we will use Open Source PHP Script, Which is free of cost. The Most Popular video-sharing script is ClipBucket to make video websites like YouTube.Here's a simple guide to make video website like YouTube.
Table of Contents
Step 1: Choose a Domain and Hosting
To make video website like YouTube, we need a Domain and web hosting. Get a web hosting service offering unlimited bandwidth and faster storage.
Step 2: Download Clipbucket Video Sharing Script
First, We need a ClipBucket Video Script. So, Simply visit ClipBucket Video Script, it's free of cost, and download the latest version zip file.
Step3: Upload Clipbucket On Cpanel To Make Video Website
After downloading the video-sharing script, Go to your hosting Cpanel and open the website root directory where you want to install your video website script. Now, upload your video script zip file to your website directory, and you also need to extract it. If you are a beginner, You can see our YouTube video How To Make Video Website Like YouTube
Now, Open the Clipbucket folder, and there is a Upload folder. Open the Upload folder and select all files, then move all files to the public_html folder. Seems Like this
Step 4: Create a Database and User For Video Website
Now, go to your hosting Cpanel through a new browser tab and create a new database from the MYSQL Database option. Create a new database name. Then scroll down the page, and you will see the ADD New User option for your newly created database. Therefore, Add the new user to your database. After Creating a new user, scroll down the page to see ADD User For Database. Hence, From the user option, select your unique username and also select a new database in the database option, then click on the ADD button, and a new dialogue box will open. Select All Privileges and also click on the Make Changes button.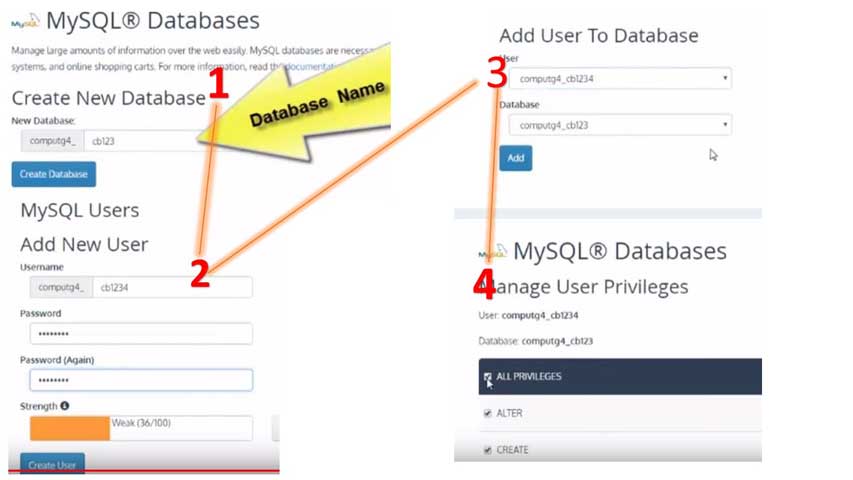 Step 5: Database Configuration Setting For Video
After Creating a database and username, Open your website URL: www.your url.com/cb_install. When you open this link, you will see a page of video script installation. You need to put data in the database settings page and click on the check connection button. Then, after processes, you will see a page with the admin username, pass, and admin email. Fill in your login information and keep it saved.
Step 6: Uninstall the cb_install folder
The final step is to uninstall the cb_install folder. Don't worry; this folder is used for the first time to install the script. Now, go to your hosting Cpanel and open file manager, then select your website public_html folder. Here, you will see the cb_install folder, then delete it. Now, your video website is ready to use. If you are interested in making a social network website like Facebook, then visit How to make social network website like Facebook.
FAQ's
How to create a website like YouTube?
To make a video website like YouTube, You need a domain name and web hosting. Download a PHP script like Clipbucket to set up your site. It will upload and share videos without needing to code.
How do I create a video website?
There are so many platforms to make video websites. The best way is to Install a Clipbucket video sharing script like WordPress. Then, you can start uploading videos and customizing your site.
Is YouTube the only video website?
No, YouTube is not the only video sharing website. There are many other websites, like Vimeo and Dailymotion. Each website has different features.
Can I put YouTube videos on my website?
Yes, you can put YouTube videos on your website. Get embed code from the YouTube video-sharing option and put it in your website through a custom HTML widget.
In Conclusion: 
I hope you will create your own video website using this guideline; otherwise, you can ask me any questions in this article's comment box. I will soon as soon to give your answer. Please like and share my article.