Transfer WordPress Website To Another Hosting
In this article, I will show you how to transfer a WordPress site from one host to the new host. Whether your's data moving from regular hosting service or WordPress.com. Here you find complete instructions on how to migrate your WordPress website from one host to another hosting service. You need to following steps to transfer your WordPress from one host to another.
1. Download Public HTML Folder To Transfer Website
First of all, Download your website public HTML folder. If you are transferring your subdirectory website then download this website directory folder. Before downloading the website directory folder you need to compress this folder and then download it. Go to your website hosting service CPanel >File Manager>Home Directory. You can also watch our Youtube video How to transfer a WordPress site to another host.
2. Export MySQL DataBase To Transfer WordPress Site
The second step is the migration of MySQL DataBase. You need to export your MySQL Database from your old hosting service. The migration of databases is so simple like downloading public HTML. This step is most important to transfer a WordPress site to another host. Therefore go to your old hosting service Cpanel >Backup Wizard option> BackUp>Click On Your Website DataBase To Download.
3. Add Your Domain In New Hosting
In this step, you need to add your domain to your new hosting CPanel. If you have already added your domain and your domain directory folder is created without changing domain server name then you don't need to add the domain. For example, When you click on your new hosting File Manager option then your domain will appear in the home directory box. If your new hosting can't allow adding domain directory without changing domain server name then change your domain server name and add your domain to a new host.
4. Upload Public_html Folder To Transfer WordPress Website
After adding your domain to new hosting, Then upload your public_html folder to a new host. It is very easy to upload a public_html folder in the domain home directory. Go to file manager, open public_html folder, and clicks on upload option, Choose your website public_html.zip folder and extract it here. After extracting, then delete the public_html.zip folder and open public_html extracted folder and select all files and clicks on move option and you will see a moving path seems like this (….. public_html/public_html/). Just you need to remove one public_html after removing your move path seems like this (….public_html) and click on the OK button. Now come back the home directory and open your public_html folder and from here you will see another public_html folder which will empty. Delete this folder.
5. Upload Website Database To Migrate WordPress Site
How to transfer WordPress site to another last step is uploading the database. Simply go to your new hosting CPanel > MySQL Database>create a new database. Add a new username to a new database.
After adding a new user and passwords. Now, Scroll down this page you will see an option Add User To Database. Select your new user in the first box and select the new database in the second box and click on the add button. A new page of Manage User Privileges will appear, tick mark ALL PRIVILEGES option then click on make change. Save all information in a notepad.
Suppose You Make
Database: computg4_1
User: computg4_12
Pass: ……………
Now, Go to Cpanel> phpMyAdmin>select your new database>click on the Import button top right side> choose your downloaded database and click on Go button. The presses are little difficult therefore Screenshot is given below.
6. Reconfiguration Of WordPress Site
Finally, You need to reconfiguration for Your WordPress site to work with the new hosting server. Hence go to your Cpanel>public_html folder>wp-config.php and change database name,username and password. Note the WordPress login information remain same. Seems like this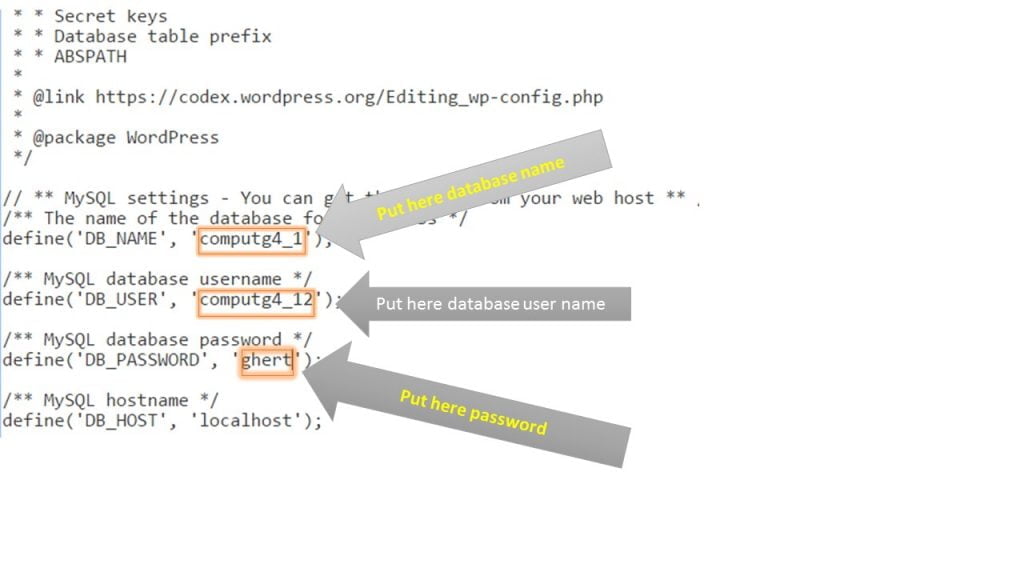 In addition, If you are not understanding anything then you can also watch my YouTube video and the YouTube link is given above. You can also visit our article how to make a website WordPress