Make A File Sharing Website In PHP
Today, I will tell you how to make a file-sharing website. In this article, I will discuss how to create your own file-sharing website where you can upload and download through a link like Google Drive. You can also provide a file-sharing website service to your friends like google drive by adding a Sign-Up button to register a new user. There are many file sharing websites Scripts are available on the internet but we will make a site with NextCloud. The NextCloud most popular script and also it has many features. Therefore, we will make a file website using NextCloud. So, We need NextCloud script. Please visit NextCloud official website to download the file.
Upload Zip File For Your Sharing Website
After download the zip file, You need to upload the NextCloud zip file into your hosting file manager. So, Please extract this file into your website root path. If you will not place files into an exact path then the website will not work. Therefore, you need to place it into the exact website root folder. Now, Move all files from the NextCloud folder to the main website root folder. Finally, visit your website. You will see the database configuration setting page and also you will be asked about the Admin username & password.
Database For File Sharing Website
In finally, create a new database for your own file-sharing site from the hosting C – Panel by visiting the MySQL database and you also need a new username to integrate with the database. If you did not know how to make a database, So please visit another article on how to make a video website like youtube where is available a complete guideline on how to make a database and username for a website with screenshots. After filling out the configuration setting page hit the Finish Setup button.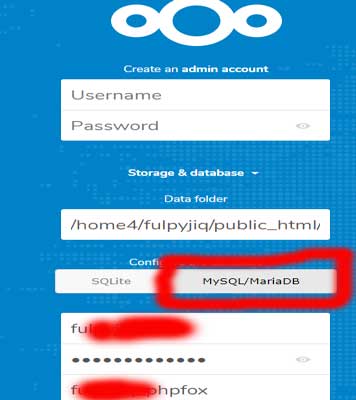 NextCloud Features
Upload and Download files, images, videos and more much
Easy share files to your friends with a link on Facebook or email and you can also send by email.
Audio & Video chat with registered users on NextCloud
A Data storage Platform like google drive.
Video Verification System
Unlimited Storage as your wish
Audio & Video Chat In NextCloud
If you want to audio & video call function in your file-sharing site. So, you need to install the Webrtc service on your server. Therefore, You want to buy a VPS server like ( digital ocean, Cloudways ) where you can install this service. In the next articles, we will discuss VPS servers and how to install services like (Webrtc, Cpanel, Lamp and also VPN ) on an unmanaged server.
Conclusion: So, I hope you will enjoy this article and also you will make your own website by following our team guidelines.